Steelers recently lost against the New York Jets 14 - 21 in Pittsburgh
Overall Record
56 - 24 - 1 ---1st Ranked
Total Offense
203.53 Yds/Game ---4th Ranked
Total Defense
177.90 Yds/Game ---1st Ranked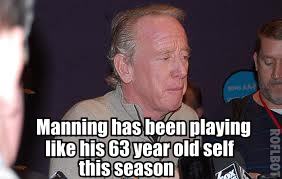 Reports from Saint camp indicate that the struggling Archie Manning will be benched in favor of the lesser talented, but thus far, more productive Bobby Scott. Manning is 3 of 14 for 20 yards with 1 TD and 1 INT in two games this season.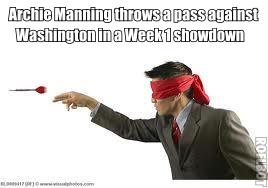 Bobby Scott has seen limited playing time, and is completing just 28.7% of his passes, but Scott's only completions nearly brought the Saints to overtime against the Vikings in Week 2. Scott first connected with Don Herrmann for a late score to cut the Viking lead to seven points. On the next drive, and with the clock dwindling to zero, Scott hit a leaping Henry Childs on what was nearly the equalizer. Childs was taken down at the 5-yard line, and the Saints lost the affair, but Scott was the spark that the Saint passing game has otherwise lacked this season.
If Manning is not in fact permanently benched expect the disappointing Manning to be tethered to a short leash. Saint's coach Cheapcatch said he is, `less than amused with (Archie`s) performance thus far,` and, `isn't in the market of watching passes either drop like dead weights or sail off course like some amateur skipper.`
No Movie (Yet)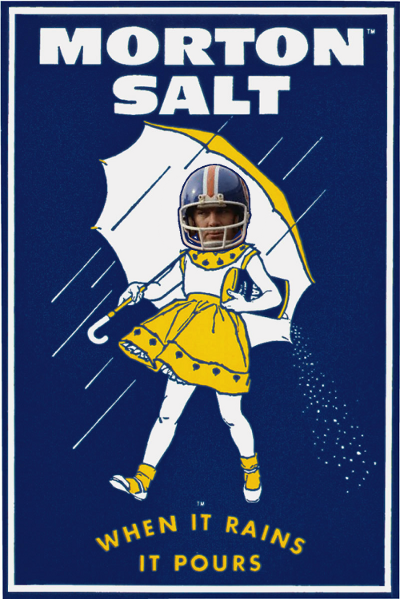 When it rains, it pours in Denver. The Broncos' Craig Morton won Player of the Week in TLL 79 Week 2 with an overtime victory over the Raiders and a very impressive stat line:

11 / 16 330 Yards 5 TD 1 INT

With statistics like those in any TLL game, it seems like voting for Morton is a no-brainer.  However, like many stellar quarterbacks, Morton has a deadly deep target in WR/RB Haven Moses.  Moses' stat line is also impressive:

5 Receptions 201 Yards 3 TD
6 Carries 26 Yards, 2pt conversion

When looking at the statistics of both players, one could make a case for either player winning player of the week.  As coach of the TLL 79 Broncos, I considered both players to be valuable, but ultimately voted for Moses as my choice for Player of the Week.  Yet Morton won out after other coaches voted.  This compelled me ask the question, "How does one choose who is to be Player of the Week?"

My initial choice of Moses over Morton could come from the insider knowledge that I have from being coach of the Broncos.  I played the game, felt Moses was a deciding factor in it, and voted appropriately.  Coach TecSpectre may have influenced my vote after the game, saying that when Moses came in at running back, the Broncos were a different team and harder to stop.  However, it is unclear which player TecSpectre voted for, if either.

And then there are the other coaches.  What do the other coaches use to determine a player's Player of the Week status?
•    The simplest and perhaps most accurate way is for them to vote on players who are either on their team or who they played against for the week.  This seems the most sensible since each coach was able to experience the performance of the player on the field.
•    There is also the possibility, with the advent of most TLL games being recorded for the season, that coaches go back over other teams' game footage and make a choice based on that.  This seems unlikely because it can be labor intensive and tedious to watch every single game for the week.
•    The likelihood is that most coaches will compare stat lines for players they have not seen that week and decide from there.  Whatever kinds of stats that the coach deems to be important may sway his final decision.
•    In addition, other factors may be taken into consideration.  What about the strength of the team the player is playing against and the stats that were put up?  Four touchdowns versus the 79 Steelers defense certainly looks more impressive than if it were against the 79 Seahawks.

Getting back to Morton's performance, I decided to revisit some of the plays that both he and Haven Moses made in tandem and individually that may shed light on the accuracy of the voting.

Morton and Moses hook up 5 times in the game.  The first was the first Denver pass of the game, which was 36 yd TD pass.  The two did not connect again until under 3:39 left the 4th quarter, when the Broncos got the ball trailing 31-20.  Clearly during these two drives, Moses was a force. In this span, Moses had a 53 yard catch on 3rd and long, a shorter 17 yard catch to bring the Broncos into FG range, and a 60+ yard catch with 3 defenders on him with seconds to go in the back of the end zone. In addition, Denver was down 31-29 and needed a two-point conversion, which Moses delivered on a run out of the backfield.  Morton was 4 of 5 during that 4th quarter stretch, but 3 of those passes were crucial gains to Moses. Morton was also sacked twice, which certainly hurt the Broncos' chances.  In OT, Morton was sacked one more time, but still completed two passes, one of which was a 35 yard game-winner to a diving Moses in the end zone.

But perhaps I am making Moses look too good.  He only had 1 catch in the first half.  He came in at RB in the 3rd quarter to provide a spark, especially after Riley Odom went down, but only 3 of his 6 runs were for positive yardage. Also, Morton only had 5 incompletions.  One was an interception to end the first half on a chuck-and-pray play, another was an overthrow.  The other three were not really his fault: two were deflected by Raiders' defenders down the field and the other was a drop by Upchurch.  In essence, his passing record was near perfect for the game: 3 of 5 passes could have been caught; there was a garbage interception which does not take away from his 5 TD passes.  He also spread the ball around, hitting 5 different receivers throughout the game.

What may be most telling for Morton is that he was not even in the game for the first drive of the 3rd quarter.  His backup, Norris Weese, moved the Broncos backwards.  Here are Weese's plays on that drive:

1st down- Incompletion
2nd down- Incompletion Out of bounds (intended for Moses)
3rd down- Sacked

The next drive, down 24-13, the game plan changes.  Odoms is out, Morton comes back in for Weese, but has lost a solid receiver.  Moses switches to the RB position, where he would switch back and forth from there and WR.  Clearly, the game plan (along with a fortunate onside kick) worked for the offense.

So who is really the Player of the Week here, Morton or Moses?  Or is it someone else that coaches overlooked in other games?  There are so many factors in place that it is hard to isolate a player.  As many sportswriters claim, football is the ultimate team sport, and it is truly challenging to pick out one player whose performance would be dominant without the superb play of his teammates.  In the TLL, it might be easier to decide, but this is not to say that the team factor is not present.  Nor am I denying that there are transcendent performances by players.  There may be defining moments in games where it is clear that without that player's performance, the team surely would have failed.

One thing seems certain is that it is much easier to decide a Most Valuable Player for an entire season than it is for just one week. Over the course of a long season, all coaches are exposed to the performances of TLL's best players.  The more games that are played, the more accurate the stats can be about a player's overall value.  Yet it is still fun to talk about great performances from week to week.  But when deciding the Player of the Week, perhaps we should take it with a grain of salt.

Coming Soon
Overall Record
56 - 24 - 1
1st
Home Game Record
19 - 17 - 1
3rd
Away Game Record
37 - 7 - 0
1st
Passing Yards
119.57 Yds/Game
19th
Rushing Yards
83.96 Yds/Game
3rd
Total Offense
203.53 Yds/Game
12th
Passing Yds Allowed
112.46 Yds/Game
2nd
Rushing Yds Allowed
65.44 Yds/Game
7th
Total Defense
177.90 Yds/Game
2nd
0 Super Bowls, 0 Super Bowl Rings

| Name | Year |
| --- | --- |
Offensive Players Of The Year

| Name | Year |
| --- | --- |
Defensive Players of the Year

| Name | Year |
| --- | --- |
Player of The Week

| Name | How Many |
| --- | --- |